AAMC Training Group
AAMC offers you solutions based training and consulting options. Many Banks, Finance Brokers, Financial Planners, Dealer Groups, Accountants, Real Estate Agents and Insurance Brokers entrust AAMC to train their people with courses available for the whole of the financial services industry. Our consulting services are also popular for those wanting advice on how to improve their business and meet the ever changing regulatory environment. Contact AAMC Training Group today to discuss your current and future needs.
9 September 2013
6. September 2013 21:54 by Team Eternal Mewar in Eternal Mewar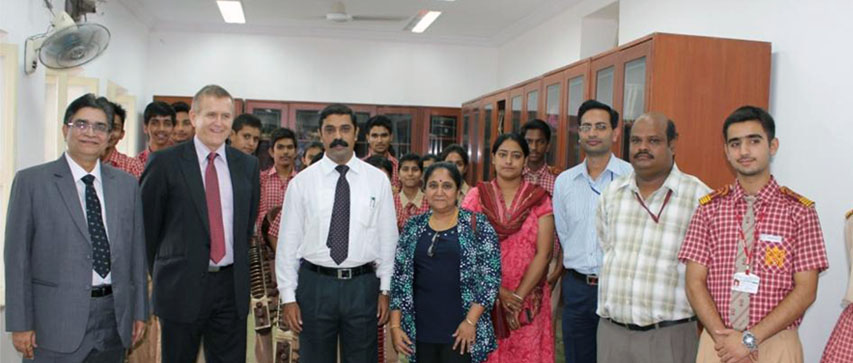 It's unstoppable! The school's drive to take Mewar's budding youth of tomorrow on a global platform is taking them places. Or should we say, it's bringing the world to them.
Not too long back, Mr. Jeff Mazzini, Managing Director of Australasian Academy of Mentoring and Coaching, Balcatta, Western Australia along with Mr. Ravi Subraman and Ms Raj Lakshmi visited the school. Received by the principal and escorted by the heads of the School Students Council, they absorbed the culture of the school along with the activities, facilities and infrastructure. They introduced the Australian Vocational Educational Courses to the teaching staff and students.
A friendly chat with the school kids later climaxed into Mr. Ravi Subraman acknowledging, "At the very outset we would like to place on record our appreciation for the honour accorded to us by your students and our sincere thanks for your hospitality showered on us during our visit to your institution in Udaipur. Your teachers too deserve a round of applause for their effort in bringing out the best in every child. It was outstanding and most impressive."
Mr. Lakshyaraj Singh Mewar of Udaipur, Trustee – Vidyadan Trust, believes, "Every little step brings the school kids closer to the world that is calling them with both arms open! We at MMPS will act as mere vehicles to get these kids to where they belong."
About AAMC
Australasian Academy of Mentoring and Coaching (AAMC) is a registered RTO offering eLearning, consulting and mentoring services along with online training management systems that are effective, professional and cater to meet the business needs. Its accredited courses are approved under the Australian Qualification Framework ( AQTF) and range from Certificate, Diploma, Advanced Diploma,RG146 (ASIC approved).
No comments. Be the first.